Regular price
$285.00 AUD
Regular price
Sale price
$285.00 AUD
Unit price
per
Sale
Sold out
The 7'6 B Soft Board HP Fins System is a classic Mini Mal shape.
It is the perfect softboard for beginners or those surfers looking to catch heaps more waves every session. 
The square tail gives the board more grip and hold, additionally the extra surface area in the tail will also increase the rider's stability while riding the wave.
Equally as important is our sqare tail which makes it much easier to catch waves and also helps maintain speed on smaller waves.
PRICE: 7'6 B SOFT BOARD
We sell our B Soft Boards factory direct at wholesale prices, therefore you will get a very good quality surfboard at the best price.
Construction:
IXPE Soft Deck
PE Strengthening - Extra layer under the deck.
High Quality Epoxy Resin 
EPS Waterproof Closed-Cell Foam
Bottoms – UV stabilised HDPE (high density poly ethylene)
2 x solid bamboo stringers for added strength and flex.
Crocodile Skin Non-Slip Deck (No wax needed)
Dimensions:
7'6″ x 22.5″ x 3.8″  Volume: 70L
Share
View full details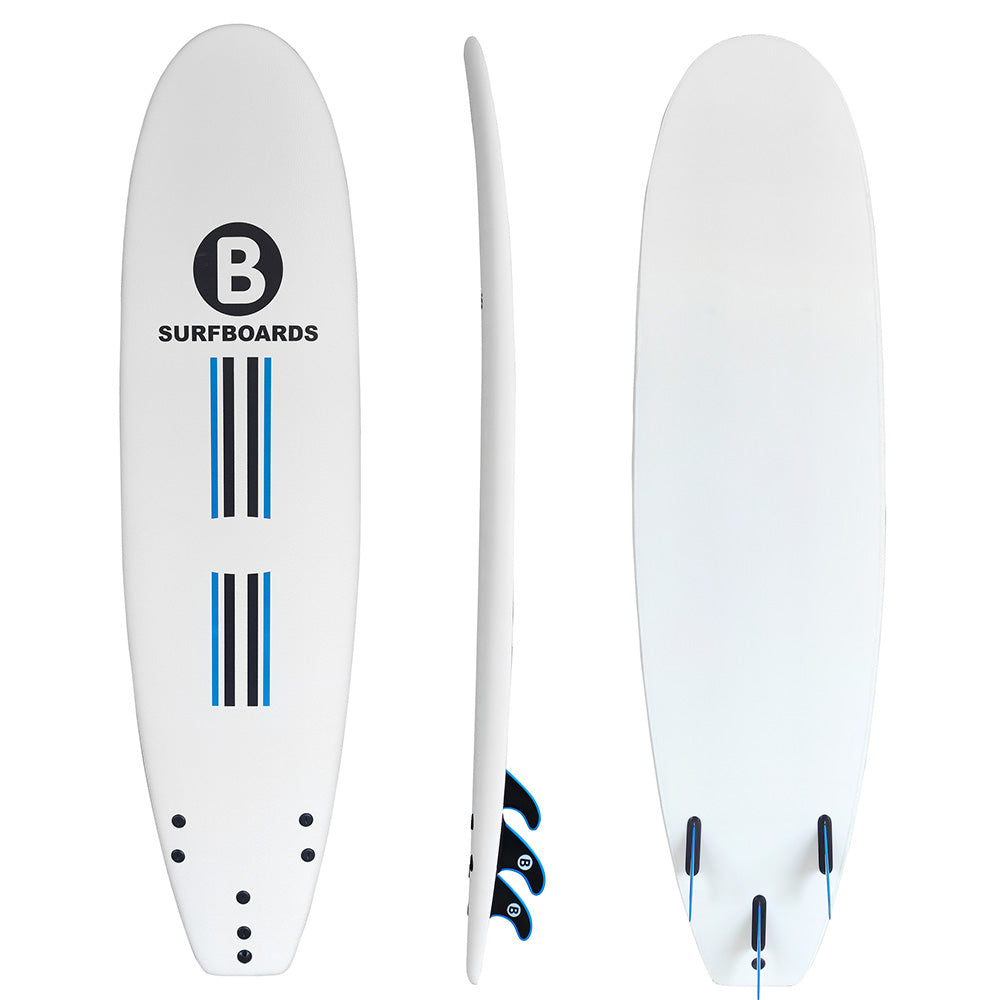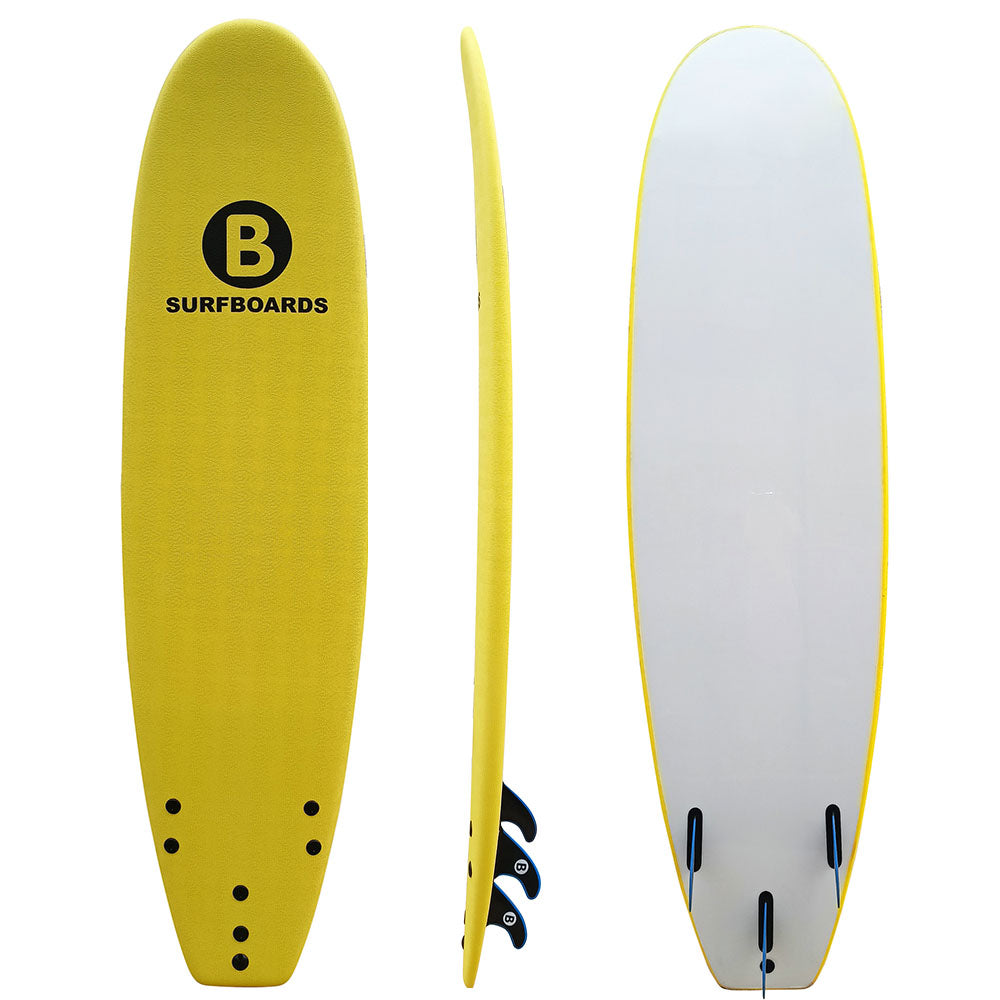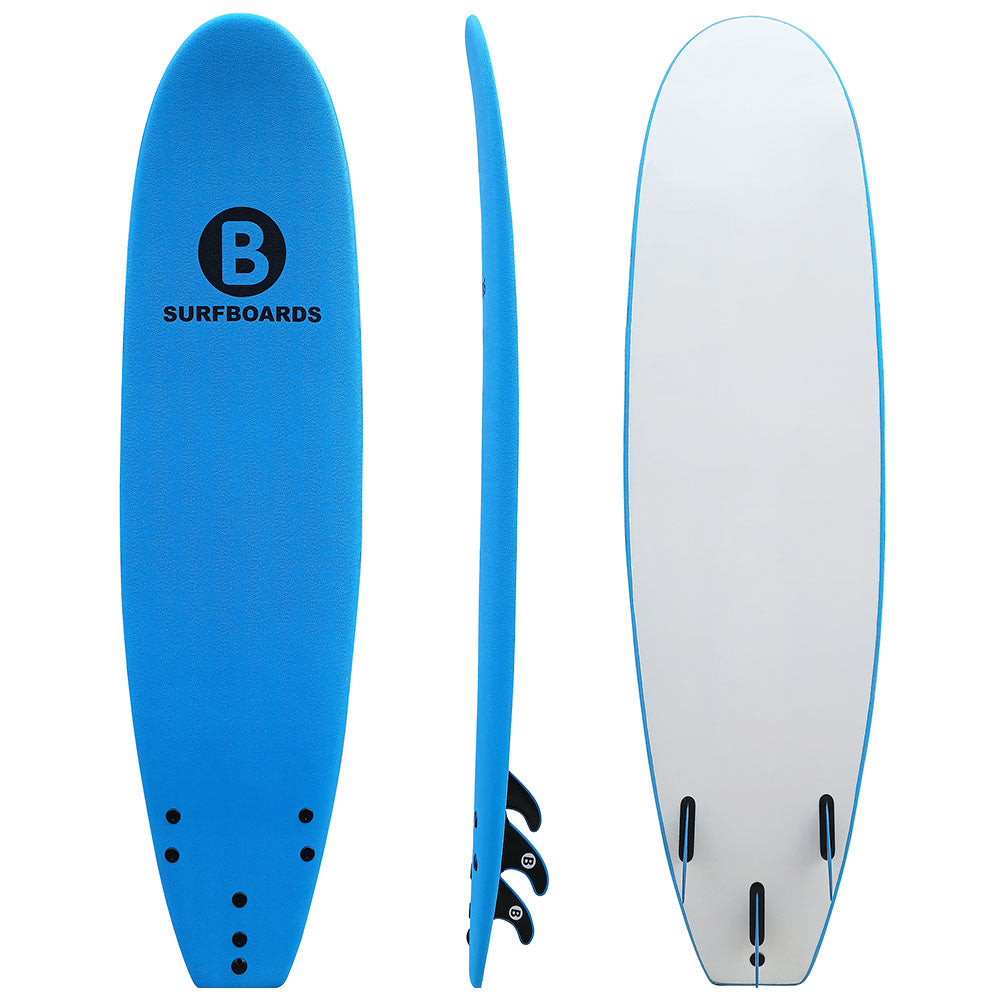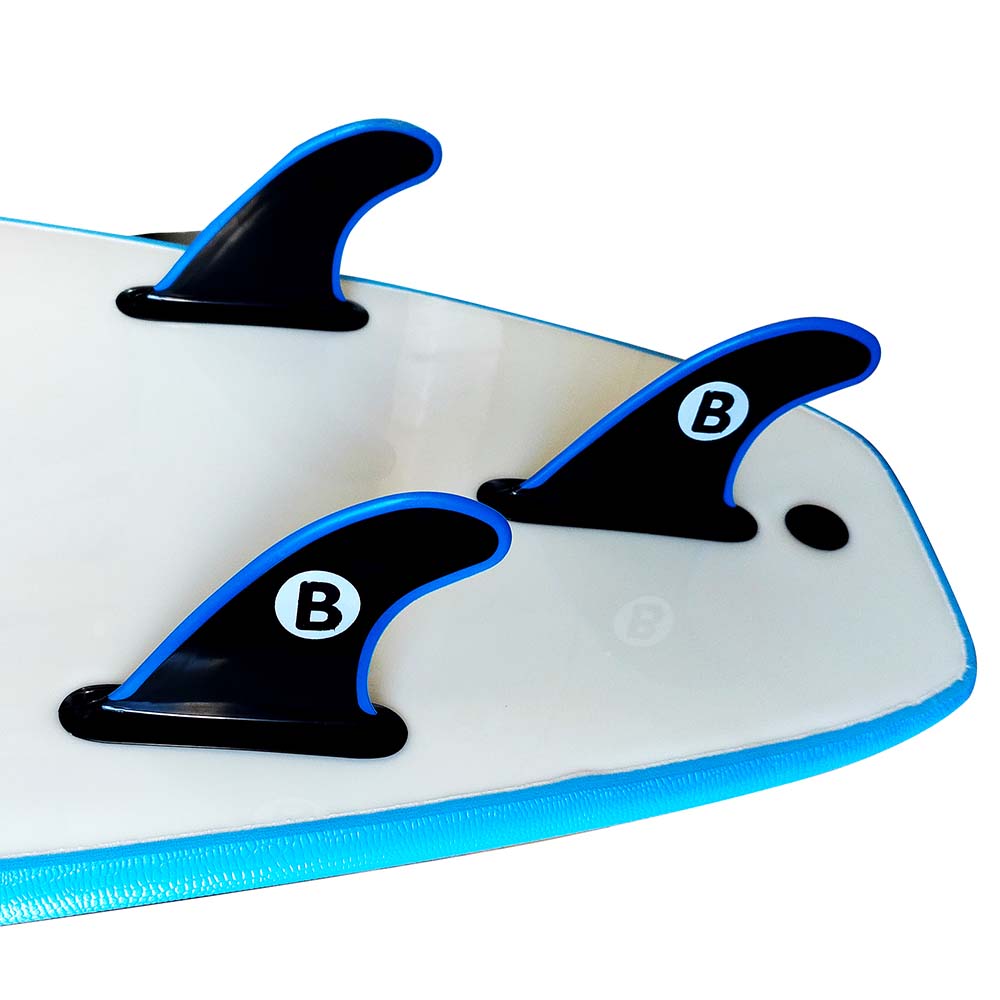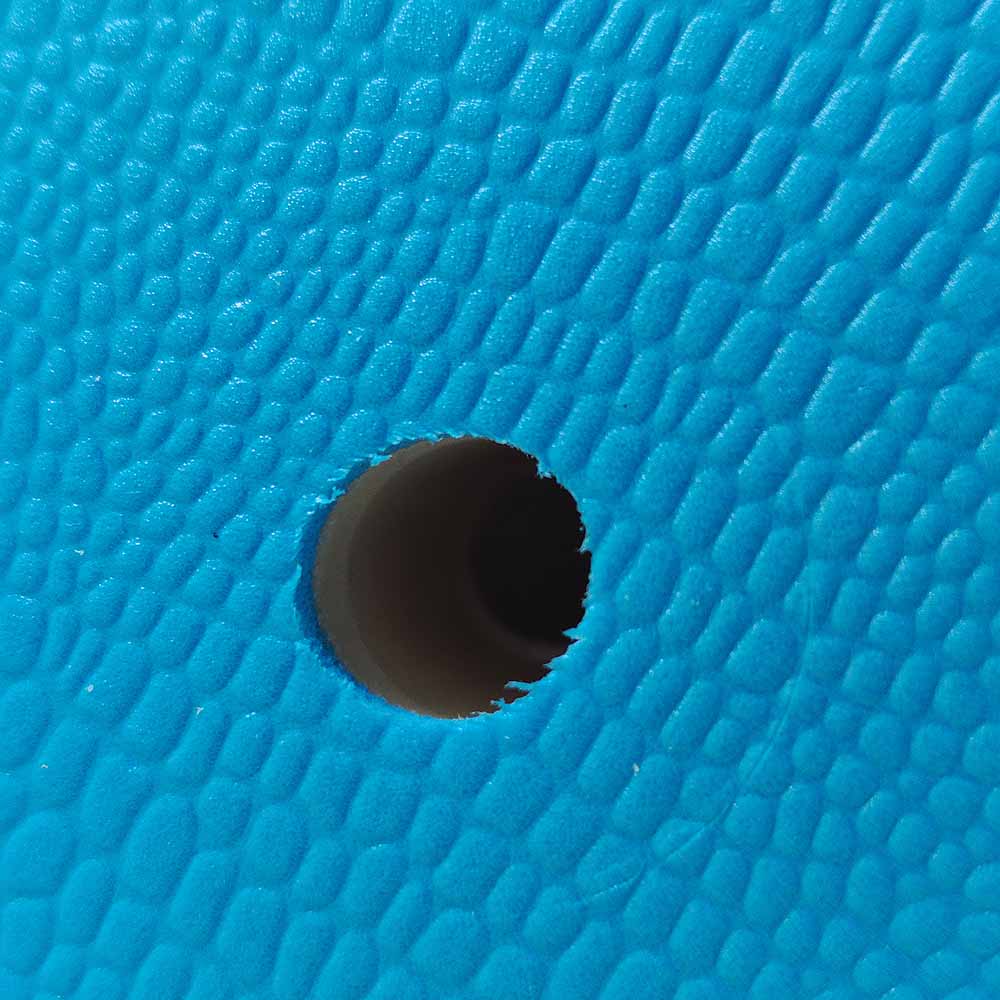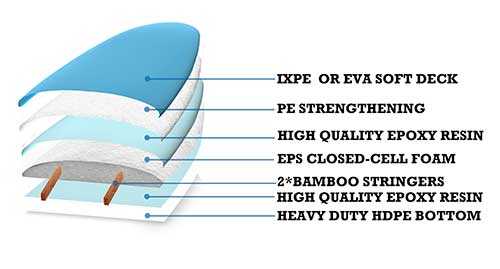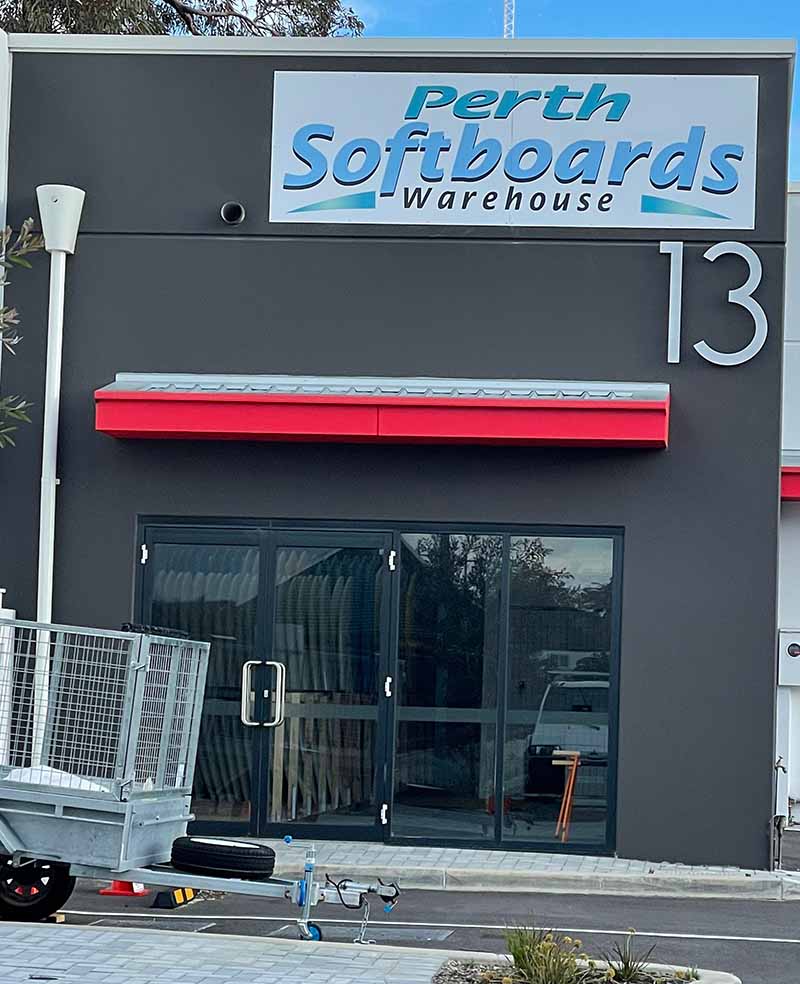 Collapsible content
Winter Hours or give Keith a call 0417 905 789

Thursdays: 11am to 2pm

Fridays: 11am to 2pm

Saturdays: 10am to 1pm

(Saturdays to open the gate code is: 1022)

Warehouse 13/ 10 Geddes Street, Balcatta.
Warranty

Product Warranty for Soft Boards is 31 Days from date of purchase.

Warranty excludes snaps, creases, heat damage, bubbles, broken fins, dings, cuts and compressions.

Your Softboard warranty does NOT cover:

- Exposure to excessive heat. Heat can damage the shape and lamination of the board

- Creasing of the deck or the slick bottom

- Water absorption

- Accidental or forceful damage to the board

- Over-flexed or broken boards

- Damage caused by leashes, fins or other accessories

- Dents or depressions from the rider or foreign objects

Surfboards and Soft Surfboards are made as light as possible so they are fast, and easy to turn.

* I can make you an un-breakable soft surfboard (expensive) - but, it will be very heavy and very slow and won't turn when you try to surf it!
Product Care

THE GOLDEN RULES  to owning any soft board.

Before you start shredding up the surf, there are a few things you should consider to ensure that you're getting the best out of your new B Softboard.

High Temperature Warnings

Softboards of all types, when exposed to high temps or direct sunlight for extended periods of time, can begin to bubble/ crease/ fade in colour.

Store your board in a cool, dry place out of direct sunlight or heat to avoid this.

Do not leave it in a car for extended periods of time. Even as little as one hour in Aussie summer conditions can cause irreversible damage.

Heat related damage is NOT covered under warranty. 

General Care 

After every surf, make sure to rinse your board with fresh water to remove any excess dirt, sand or salt residue.

Wipe down your board with a clean towel & make sure it's stored in a cool, dry location that won't receive direct sunlight.

Avoid Impacts

Impacts both in and out of the surf may damage your board. Damage caused by impacts are NOT covered under warranty.

Transportation 

When fastening your board to the roof of your car, avoid strapping it too tight as it can penetrate the slick or crease the rails. Use a board bag as much as possible when mounting it to your vehicle. Do not leave your board in or on top of a hot vehicle for extended periods of time or you risk major heat damage.

Safety Considerations

These are softboards, not toys or a lifesaving device.

- Surf with a mate when you can to share the stoke & look out for each other.

- Check surf spots for potential hazards before paddling out.

- Don't drop in, get in the way, or interfere with other wave riders.

Most importantly...Have fun & keep ripping! 

Product Warranty for Soft Boards is 31 Days

Warranty excludes snaps, creases, heat damage, bubbles, broken fins, dings, cuts and compressions.